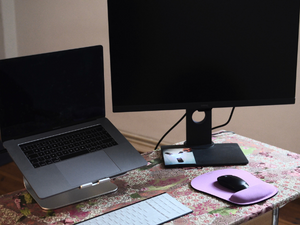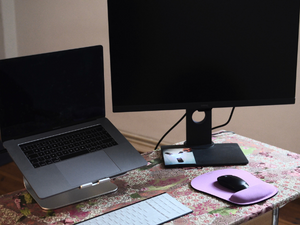 In recent years, the use of advanced technology in the office has increased in popularity among businesses to improve their efficiency, productivity, and effectiveness. Whether running a small or large company, it is important to know that utilizing a dual monitor setup in your office can provide quite a few advantages.
Effortless Research
It is very useful for employees who conduct research on a regular basis to have a second monitor at their disposal. By using two monitors at once, employees can view different sources at the same time, rather than having to switch between other tabs on their screen. This results in a more meaningful and effective comparison, which produces a higher quality product.
Work Efficiently
It can be challenging to manage multiple applications with only one monitor. A multitasking environment needs enough screen space to maintain multiple applications at once. Using a dual monitor setup, employees won't have to scroll up and down the screen or resize windows to fit the information they need into the limited space available. Users can achieve greater accuracy when working with dual monitors because of the increased visibility the dual monitors provide.
Increase Productivity
According to studies, employees can also boost their productivity by up to 30% when using dual monitors in their workstations. As a result, employees will be able to work more efficiently as they won't have to switch tabs as often, so they'll be able to accomplish more tasks more quickly.
A dual monitor system allows users to display multiple applications simultaneously on the same screen, including web browsing, email, and multimedia. Using dual monitors at the workplace can help employees become more efficient and productive by enhancing their efficiency and productivity.
Here are the links to some of the hardware our clients have been using successfully to optimize their dual monitor setups:
This monitor is very nice and much less expensive than many. I have many clients with this setup and have all loved it.
https://amzn.to/3B0QoMz
Here is the sand if you're using a MacBook so you can use your MacBook as a monitor as well, the stand helps get it up closer to eye level and makes it a lot easier to plug cables in and out when you need to grab the MacBook and run.
https://amzn.to/3umZphQ
Phone holder, this is great, I put the phone up on the holder so you can see calls coming in and know where the phone is.
https://amzn.to/34MQrQ2
Apple Magic Keyboard with Numeric Keypad - if you're looking for the full working off a big screen experience you won't want to work off the MacBook keyboard and trackpad.
https://amzn.to/3gXDFF1
Apple Magic Mouse.
https://amzn.to/3jLsyNB
Another thing that is helpful to protect against power surges and lightning is a good UPS, I lost a bunch of hardware to a lightning strike about two years ago, and the only stuff that survived was plugged into my UPS. This one is larger and could handle running your Monitor, MacBook, etc during a power outage as well as offering surge protection.
https://amzn.to/3hgnQDe
For something smaller that will help with the surge protection, this one is great too but it won't run all your hardware for very long if the power goes out.
https://amzn.to/3AhN8fv
Apple USB-C to USB Adapter, if your getting a new computer you might toss a few of these in the cart. The new Macs are all USBC, so if you have some older USB printers, phone chargers, or other USB devices you'll need these adapters to get them connected to your new Mac. It is good to have one in your travel bag as well so if you go someplace and need access to a USB device you are ready to go.
https://amzn.to/3Gx8VVw
Backup hard drive, if you don't already have one be sure your system is backed up.
WD 2TB My Passport for Mac: https://amzn.to/3eJxwFB
WD 4TB My Passport for Mac: https://amzn.to/373sbrw
Handy 2" hook and Loop for keeping your drive connected to the back of your monitor or iMac
https://amzn.to/3hmPuUX
We also recommend an off-site backup, Something that will work when you are not at home, go on vacation, work from the poolside, etc. An online backup will keep you backed up anytime you have access to the internet. It also provides a backup of all your data should your MacBook and Backup drive somehow both get damaged, like a lightning strike, or get taken.
https://www.backblaze.com/cloud-backup.html#af5836
---
Would you like to be a Power User? Sign up for "The Fix" our Mac Tips and Tricks newsletter here.
If you have any questions you can reach The MacGuys+ at 763-331-6227 or schedule an on-site visit here
Trusted Mac IT for business owners in Minneapolis, St. Paul, Twin Cities Metro, and Western WI Area! Nation Wide, Co-Managed, Work Anyplace Mac IT Support.