Wherever you are in the country, The MacGuys+ is ready to help with everything you need to provide support services for your remote Mac department or business. for over two decades, our team has been proactively supporting businesses and organizations, offering Mac IT Managed Services, Cybersecurity, IT Strategy Consulting, Training, Policy Management, and more. With us, we can solve any remote work challenges for your Mac-based team.
Today, it's a huge honor for us to celebrate our newest recognition from The Manifest! During their inaugural awards, The MacGuys+ was officially hailed as one of the most recommended and reviewed Mac IT services companies for 2022!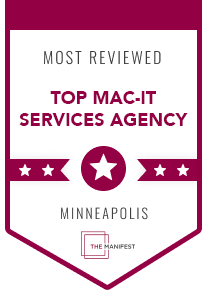 When our founder, Tim Nyberg, also known as "The MacGuy", started this company, he knew that speed and efficiency will be a great asset. This idea and principle didn't just apply to our team's needs, but also to our clients' hurdles. As the world has undergone many changes in the last few years we have met those hurdles, with our work remote support tools for Mac-based teams. Things change when you send your team out into the wild, working from a home office outside the security and protection of a corporate office, firewalls, and training dates in the lunchroom. We have solutions for all of that and are ready to help our clients move out of the office with peace of mind.
Since 1999, we've honed our approach and skills to help our clients. We've established a name for ourselves as a quick and proactive team that serves as trusted IT help for Minneapolis business owners.
. 
Moreover, The Manifest is a business news platform that's designed to help browsers through their extensive B2B wisdom. In their first-ever awards, the platform evaluated countless service providers and took into consideration the quality and quantity of reviews they earned in the last 12 months. As reported by The Manifest, The MacGuys+ is among the most recommended IT partners.
Thank you so much to every one of our partners who helped us earn this wonderful award. Earning recognition because of our clients' trust and support is monumental for us. We are truly humbled by this amazing moment.
It's only the third month of the year, we are excited to see what else is ahead of us. If you need help with your remote work or anything IT, we have you covered! Let us know how we can help! Send us a message or give us a call! We look forward to working with you.
---
Would you like to be a Power User? Sign up for "The Fix" our Mac Tips and Tricks newsletter
here
.
If you have any questions you can reach
The MacGuys+
at 763-331-6227 or schedule an on-site visit
here
Mac IT support for your business, Minneapolis, St. Paul, Twin Cities Metro, and Western WI Area! Nation Wide, Co-Managed, Work Anyplace Mac IT Support.