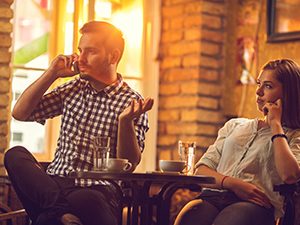 They don't call you back, they don't text back, and when you get time with them, they are disheveled, rude, and uninterested, doing barely enough to keep things going.
This sounds like a bad date…and it's one that many businesses are on with their current IT guy.
You have a problem, need a password, the Internet is down, you have site problems, need a new computer, and you "submit a ticket" only to wait days or even weeks to hear back, much less get the problem resolved.
The #1 complaint businesses have that causes them to "break up" with their current IT guy is that he simply wasn't responsive.
Just like you wouldn't stand for this in your personal life, you shouldn't stand for it in your professional life…especially when you're paying them!!!
If your current IT company isn't getting back to you, you're probably on a bad date.
A good IT firm should be able to show you statistics from their PSA (professional services automation) software, where all client problems (tickets) get responded to and tracked. Ask to see a report on average ticket response and resolution times.
Also, any good IT company will answer their phones LIVE (not voice mail or phone trees) and respond from 8:00 a.m. to 5:00 p.m. every weekday without you waiting weeks to hear back from someone.
---
Would you like to be a Power User? Sign up for "The Fix" our Mac Tips and Tricks newsletter
here
.
If you have any questions you can reach
The MacGuys+
at 763-331-6227 or schedule an on-site visit
here
Trusted Mac IT for business owners in Minneapolis, St. Paul, Twin Cities Metro, and Western WI Area! Nation Wide, Co-Managed, Work Anyplace Mac IT Support.